Ardern has no idea what she is talking about and is simply repeating what the puppet masters say
Remember how you get banned for saying anything negative about the 2020 US election because we aren't meant to question election integrity?
Yet all the West can say is "sham election" when it comes to the vote to join Russia. Ardern has repeated the same narrative calling it illegal.
The same words repeated by everyone "illegal" and "Sham"
But is it illegal?
Firstly, of the western press saying it was a sham election, none had reporters on the ground covering the various referenda.
Those that were there on the ground covering the event, such as Patrick Lancaster, showed it was a genuine election. There were observers there from other countries and people could vote the way they desired.
Of course Russia would have the ability to make it a sham election, but the fact the regions have been wanting autonomy from western Ukraine, and were at war with Ukraine may be a couple of hints as to which way any referenda might go.
In terms of recognition of Kosovo when annexed from Serbia, the Serbs went to the International Court and got told the Court recognised peoples ability to determine their sovereignty via a referendum.
So what is going to be found in the case of ethnic Russians wanting protection from Ukrainian Neo-Nazi bully boys.?
That's who the west is standing shoulder to shoulder with. Corrupt politicians and a nationalist hooligan army. Thanks Ardern you have again shown us that NZ is a cork in the bathtub of globalist elites determined to destroy Russia.
The days of standing up to the the western powers have been turned into yes men and woman. Ardern is a puppet and we are the beneficiaries of water the WEF has in store for us.
Just like the pandemic response was not about our health, this war is not about peace for Ukraine.
Funny how no one in the west is talking about the pipeline explosions.
The only war that Russia is losing is the info war. They have lost the media battle fairly and squarely. But they have won the battle for the Donbas and Europe is yet to wake up that they are the ones that were always going to be damaged the most in this outcome. apart from Ukraine of course.
Europe has been played by the Biden Administration and weakened into certain disaster. How well New Zealand will do is yet to be seen but overseas trips are getting g more expensive by the day.
Food shortages will come after the northern hemisphere winter and by the end of New Zealand's summer the world will be looking like a very different place.
What A time to be alive
Featured comment
One response to "Ardern has no idea what she is talking about and is simply repeating what the puppet masters say"
Join the conversation
What is the Trend in Hurricanes?
Interesting analysis from the CO2 Coalition
Hurricane Ian and Trends
Joe D'Aleo is a supporter and friend of the CO2 Coalition. He co-founded the Weather Channel with John Coleman in 1982. Here he provides some fascinating and useful information about hurricanes and Hurricane Ian specifically.
Ian made landfall as a strong CAT4 storm. The damage will rank among the largest storms. Its life is not over, as it will landfall again in South Carolina with rain; the biggest story to come.
See the trends per decade of landfalling Florida hurricanes and major hurricanes since 1850:
Here is a listing of the Major Hurricane landfalls in Florida:
Dr. Neil Frank, longest serving Hurricane Center Director advises:
"Without question the most reliable indicator of a trend in hurricane activity in the Atlantic is to focus on land falling major hurricanes (3-5) in the mainline U.S. I doubt if a major hurricane could have hit the U.S. in the 1800s without being noticed, while a minor hurricane in a remote area could have been undetected so it is important to concentrate on major hurricanes. It is important to emphasize that the rainfall in a tropical system is not related to the intensity but depends on the forward speed of motion. In the case of Harvey, the weakening hurricane stalled over southeast Texas for three days. Finally, as you know the most active hurricane season in the U.S. was 1886 when 7 hurricanes hit the Gulf coast. One of the major hurricanes in Texas destroyed Indianola on the south shore of Matagorda Bay. At one time there were around 20,000 people in the city before a prior major hurricane in 1875 did major damage. The only thing in Indianola today is a cemetery with numerous headstones with dates 1875 or 1886."
The US trend, like Florida, is down.
Ian encountered a 'cool' upper trough and large, chilly surface highs to the north, which deflected it northeast through Florida before feeding off the Gulf Stream to become a hurricane again and resuming its journey poleward.
See Ian's track for landfall #2:
We have added a landfall to South Carolina chart as probably a CAT 1; the trend here is down also. The 1890s was the big decade. The most recent landfalling major was Hugo, a CAT4 in 1989.
See the heavy rains coming inland again the next several days:
See the latest Sea Surface Temperature anomaly chart. The La Nina cold water shows in the Pacific and warm pools in the northwest Pacific and northwest Atlantic:
These are due to a lack of early to mid-season hurricanes in these areas (until one developed and tracked to the Bering Sea and Alaska). Hurricanes usually track these areas in the late summer and fall. The tropics heat up with the intense high in the sky sun in the summer. Currents carry some of that heat north, but this is slow and nature created hurricanes to speed the process. If these warm pools persist, they can affect the winter patterns. More on that to follow.
Want to fund our important missions? We will soon roll out our education materials that will support fact-based science targeting the home school mothers and fathers. Please thoughtfully consider donating either by check or online.
CO2 Coalition
1621 North Kent Street, Suite 603
Arlington, Virginia 22209
Gregory Wrightstone
Executive Director
CO2 Coalition
This Is How Stupid They Think We All Are!
News in brief
Kelvin Davis is a Twat of the highest order. Showing just how righteous the left are, the green eyed Maori accuses another Maori of being less Maori because she is in a different party to him. True colours on display there.
The EU is planning on punishing Russia for blowing up its own pipeline. Add this to Russia shelling a nuclear power station it is occupying and the Donbas has been shelling itself for the past 8 years. And they wonder why we don't believe their propaganda. In case anyone is confused who did it… the USA Navy was in the area and they even did a practice run a few months ago
Willie Jackson claims that they need to merge RNZ with TVNZ because people don't trust the media anymore.
The UK has lost the plot with its attempts to fight inflation by giving tax cuts and spending more. The pound continues to slide south.
More news on the UK as the tabloids tell us tactical nuclear weapons can be used to "calm down" the tensions in the Ukraine Russia NATO war.
Biden senior moments has him looking for dead people in the audience. Biden's administration and the deep state actors really in charge are the most dangerous administration ever in the Modern US era. And they still want to blame Trump for everything.
Kamal Harris thanks North Korea confusing the nation with South Korea. Showing just how much she and bumbling Biden are just puppets for a more nefarious leadership behind the scenes. This is why an emboldened DOJ and Feds are doing what they are to Trump and his allies, not to mention Alex Jones and the show trials.
Germany is totally screwed now and it is at the hands of one if it's allies, which has to be the most egregious state enacted act of terrorism in a long long time.
Food shortages are coming but Bill Gates is going to save us all with "magic seeds' what could go wrong?
The banned speech of Italy's Giorgia Meloni
The subtitled speech on woman's rights was banned on YouTube. This is Italy's first female PM in full flight.
The Green Energy Myth
Whilst at some point in the future, technology will allow for greener energy, it is a myth that we are able to replace fossil fuels at an affordable price. Even with the Oxford university calculating themselves into a fairy tail.
https://www.manhattancontrarian.com/blog/2022-9-16-cost-of-the-green-energy-transition-who-you-gonna-believe-me-or-your-lyin-eyes
Part of the calculation from the clever clogs at Oxford is that battery production costs will decrease in cost by some margin. Also the cost of producing Windmills, good luck with that assumption.
We have arrived at the point where reality no longer stands in the way of our scientific analysis of the world.
Climate Change and all that it preaches has indeed arrived at the point where it is nothing but a religion for those who need to believe in something.
Poor Little Bugger!
With crime seemingly out of control & the public & shop owners increasingly feeling helpless, take comfort in the notion that all it takes to get action swiftly is throw a Lamington. Now that by itself is obviously not going to get you a squad car with 4 burly boys in blue to sort out your issue. But if you are Grant Robertson, then you'll get swift & immediate action. Must be nice to be one of the chosen few aye Grant!
Ram raiding? Oh sorry theres only so much we can do! But if you dare to throw a Lamington at a politician, then watch out! You'll get immediate police attention! At least Steven Joyce took a Dildo to the face like a champ! Robertson is so lost in his own self importance & obviously oblivious to just how hated he & his fellow Labour MP's really are! Roll on 2023 election!
A Constitutional lawyers view on Snowden
"Ed Snowden makes the news today because the only nation that offered him refuge was Putin's Russia. Today, the news came that Russia made him a full Russian citizen, which entitles him to immunity from extradition under the Russian Constitution. Some remain critical of Snowden. I am not one of them.
First, are the Snowden critics really arguing he should have "gone up the chain of command" when his very disclosures implicated that chain of command? Doing so would have been both futile and dangerous for him, as well as prevent Snowden's disclosures from reaching a public entitled to know their own government was engaged in mass illicit spying on them. What normative principle requires Snowden to defer to authority when the people he was truly responsible toward were the American people? This "go up the chain" derogates American power to the Deep State and its military and political hierarchies over the American people. In America, the people are King, not the Generals. Snowden bowed to the right authority.
Second, those same critics then claim national security demanded Snowden keep the Deep State's secrets from the American people. Here I have a simple answer, from our founders, in the inimitable words of Ben Franklin: "Those who would choose security over liberty deserve, and will get, neither."
Snowden was a hero, is a hero, always will be a hero, because he put the American people, not the Deep State, first."
Feel free to send this to Mike Hosking
Sorry to share but how misguided is this woman?
Ardern showing her true globalist WEF colours in this short but painful UN presentation.
I've said it once & I'll say it again, she is not on our side, she is dangerous and needs to go off and play with the UN and leave NZ politics.
We need to stop allowing the UN and it's dodgy subsidiaries to dictate our domestic policy. We can take their claims on advisement and then ignore 90 % of their codswallop
Warning it is a few minutes of Ardern talking utter horseshit but needs to be seen
Hypocrite Mummy Doesn't Like Her Daughter Being Schooled.
Fresh off a trip to Fiji, a child climate activist tells everyone listening to talk-back that we shouldn't be allowed to go on holiday to Fiji in the name of climate change.
https://thespinoff.co.nz/media/25-09-2022/heather-du-plessis-allan-should-be-ashamed-of-how-she-bullied-my-daughter
This triggered du Plissés Allan to laugh and further question the misguided activist on her demands.
Rather than take on board the sensible analysis of how the child activist flaws in her claims, the mother takes to the press to spout nonsense about ice melts in the Arctic and all the nonsense the likes of James Shaw and our idiot leader spout about climate emergencies.
Oh they do not like being called out for their hypocrisy and instead go about claiming her child was bullied by Heather.
This is what we are becoming, dumbed down morons who in the belief that we are in a global climate crises tell others they shouldn't go on holiday but it's okay that they do an annual overseas trip.
Go back to school and point out that to your teachers that they are lying to you about climate change.
The Criminal Censorship of Ivermectin
Ivermectin has saved the lives of those that used it, is safer than Panadol and because of the collaboration between Big Pharma and the medical journals they fund you find that Pharma and MedSafe have still got a warning on its use.
Here is a must read series of substack reports on the sickening censorship of one of the greatest drugs ever to be created.
https://pierrekory.substack.com/p/the-criminal-censorship-of-ivermectin-418
So much data out there showing its benefits and our medical advisors go off the statement from Merck that they don't know if its any good.
The short and simple reason that this is happening is that there is no benefit to Merck to do studies on it, it will make them no money as it no longer is under license. Instead Merck would rather you bought molnupiravir which they do have under license at a cost of $1,200 for 5 days treatment. This is approved in New Zealand.
The real kicker is that molnupiravir performed poorly in its trial compared to the "game changer Merck claimed it was going to be. Ivermectin continues to save lives, but not in NZ.
This is the sad world of Big Pharma and it is business as usual. the directors need profits for their shareholders so a legal requirement to maximise profits over saving lives.
It is also why Medsafe should not be assessing the validity of Ivermectin based on the recommendation of the original manufacturer as if Merck said we tested Ivermectin and it works a treat. The sale price would be $3.14 cents. but we pay $1,200 for an inferior product.
As taxpayers can we take issue with our Government?
Is It Time To Delete Facebook?
Zuckerberg recently confirmed on the Joe Rogan Experience what we already know, the FBI directs the traffic on his platform so why bother with it anymore folks? If he's not careful FB will = MySpace….cross fingers I say!
The Green Energy Scam
https://corbettreport.substack.com/p/green-energy-is-a-scam-it-isnt-meant
The clever clogs at Oxford have calculated that green energy will save us trillions.
A reality check linked above
Talking to Ukrainians about the referendum
Interesting threat from von der Leyen
An unelected Ursula von der Leyen warns Italy if they elect the wrong parliament they may get sanctioned.
Italy is about to elect a Pro-Right government and President of European Union says

"We will see. If things go in a 'difficult direction' – I have spoken about Hungary and Poland – we have tools."
Is this Democratic? pic.twitter.com/QRN25L4gwu

— The Poll Lady (@ThePollLady) September 23, 2022
Some fracking good points on the modern environmental movements
When reality bites
Ironically it wasn't environmentalism that has caused the angst. Rather Russia turning off the oil and gas that has made people realise they quite like the low cost energy that fossil fuels provide.
https://www.spectator.co.uk/article/the-trouble-with-bourgeois-environmentalism
"Yes, climate change is a problem, he says, but we need energy. 'We import a huge amount of fracked gas' from America, he points out, so why don't we just frack our own? We should get serious about developing nuclear power too, says Smith."
In NZ we import more coal than ever because we made the environmental decision to not get our local coal. Even though it's cleaner better coal.
Ardern was able to ban oil exploration permits because we can just import the oil we need. The gas on the other hand is a different matter and I would like to say the single most stupid thing Ardern has done. But you cannot fit all of her mistakes in one episode of some mothers do have em.
Payment services and banks the next great threat to free speech.
Ardern revealed at the recent UN meet, that she would be glad to have anyone who doesn't share her belief that there is a global climate emergency, treated as a dangerous spreaders of mis or disinformation.
Yesterday we shared a publication from one of the most respected climate experts. A study on the exact thing Ardern fears is dangerous misinformation that would not help in her desire to fight the climate emergency.
The study shows that the drivers of the climate are not CO2 and that we are not in a climate emergency the latter comment is a belief shared by over 30,000 scientists. Are they all spreading dangerous disinformation?
So married to the cause are the climate alarmists that counter scientific information is treated as blasphemy.
So foggy are the minds who are made up on the issue that we actually passed into law in NZ that we will not raise the temperature more than 1.5 degrees.
If anything is more ridiculously stupid than passing a law prohibiting the temperature to increase by more than 1.5 degrees then please let me know. Ardern probably tried also passing a law making it illegal to rain on her wedding day. Perhaps that's why the wedding never seems to arrive, she didn't get enough support in the house to pass this one.
However back to reality, Ardern's plight to silence those that have different thoughts to her is something occurring around the globe and is now being actively administered by organisations that can silence people with devastating blows to their ability to earn a living.
PayPal is one of the organisations that will slice you out of trade the moment they don't like the words you use.
The latest target is the Daily Skeptic and the Free Speech Union, an organisation that works with free speech issues such as assisting people who have been fired from their employment for their opinions
Ardern uses language to incite dislike and distrust for people with apposing views, she calls it dangerous on line hate, bringing it all back to the Christchurch shooter that misinformation is what causes these acts of gun violence.
Righteously placing herself above such acts of complete fabrication of facts, but in reality being a part of a cabal of the largest perpetrators of falsities and hypocrisy.
Who can forget the podium of truth and the complete horse manure that freely flowed from her tooth ridden barn hole during the push the get a needle in every arm.
Ardern and her co-conspirators such as Trudeau, are the styles of leaders the influential organisations like the WEF are ushering in to control the herd.
Trudeau and his claims that people who don't get vaccinated are anti science, misogynistic and racist, is the exact demonising of those who don't comply. These young new brand of WEF trained leaders use divisive tactics to turn the masses against those they don't like.
Anyone who cares to follow the leadership styles of these politicians and globalist big business leaders can see what these power hungry people are up to. And it's no good for the working class.
The more we sit back and let them, the more chance it will be you they come for next.
We can only vote with our single election vote and also our wallets, to try and halt this managerial and government elite from rolling out more and more restrictions on the working class in order to pave a way for an increasingly "us and them" World.
So many on the left talk about the divide between the rich and the poor growing larger. It is these globalist elite that you support that are the biggest perpetrators of this shift in wealth. They fool you by making you believe it is the impoverished that they want to care for. The truth is they just want you as the middle class to join those at the bottom level.
Every time you hale the "kind" words of Ardern just remember she has sworn an oath to work towards the famous words of one of the most influential organisations in the world today, "you will own nothing and be happy." I bet you are looking forward to that.
The method of controlling a dumbed down population is to divide and turn people against each other, so everyone takes their eyes off what the elite are really doing. we are too busy fighting with each other to realise who the real enemy is.
Look at us in New Zealand, are we more united lately? Are we happier and and more prosperous? Are we healthier and more trusting. No we are not. We are being conditioned to give up freedom to feel safe and that is exactly what they want. If we continue do that we have lost everything.
In NZ and Australia we are nations who are willing forfeit freedom for the feeling of safety. Just look at what has happened with gun buy backs, lock downs and now free speech. Is gun violence down? If not, what was the real point of disarming the population?
Things that should never come out of a leaders mouth are many, here are two examples that should say it all.
"Do not talk to your neighbours"
"We will be your single source of the truth"
Can you really trust someone who utters statements like that?
There is no climate emergency, this is from the scientists, yet politicians tell us there is and with their grants and influence they buy the fake data needed to support what is no longer supported with actual data.
Big corporations use influence to silence and fabricate data to clear the path for profits. The latest case is the vilification of Hydroxychloroquine and ivermectin to pave the way for a multi billion dollar money grab for ineffective and harmful jabs.
You still get banned on social media for pointing this out. More of Ardern's disinformation. Let's pretend mortality rates haven't jumped up 40% while blaming those who didn't participate.
We need a shift away from this total dishonesty from leaders who claim they are following the science. They are following the science they buy and then sell it to us as though we are the ones causing the problem.
We were spreading the virus because we didn't get the jab, we are causing global warming for daring to use energy. We are making the world dangerous for daring to own a gun. And now we are spreading disinformation…
Unfortunately it's not as easy as voting out the Ardern's and the Trudeau's etc. Likely waiting in the wings is another equally as hypocritical and complicit leader who simply carries on with the same globalist agendas.
We need leaders that focus on us first, who can make decisions that aren't part of keeping in lockstep with unelected global bureaucrats who are simply doing the bidding of the megalomaniacs.
We don't have to do away with globalist organisations but we should heavily restrict their influence on domestic policy.
If our leaders support the WEF or the Bill Gates funded WHO as policy makers, then they are not the right person for the job.
That may leave the pickings pretty slim in NZ and if the media don't ask these questions, which they won't, then why wouldn't people tune out of the MSM and go searching for all this misinformation Ardern wants stopped.
Is it because we are smart enough to sort the horse from the horseshit and that is what they fear the most.
Realist
Busted!
Is this misinformation or disinformation Ardern?
The same day that Ardern made her speech about stamping out misinformation and disinformation so we can fight this climate emergency, and the same day a whole lot of ignorant kids performed a climate strike demanding the end of synthetic fertilisers and large herds of cows. A real climate scientist produced a paper slamming the one dimensional claptrap driving the climate fear porn.
The scientist is one of the most respected climate related scientists there is, one who has been an IPCC contributor and is an Alfred P. Sloan Professor of Atmospheric Sciences and Emeritus at the Massachusetts Institute of Technology. Richard S. Lindzen
Abstract
The one-dimensional picture of the greenhouse effect and the role of carbon dioxide in this mechanism dominates current depictions of climate and global warming.
We briefly review this picture. We then discuss the shortcomings of this approach in dealing with the three-dimensional climate system. One problem is determining what temperature on the real Earth corresponds to the temperature in the one-dimensional treatment. This, in turn, leads to the traditional recognition that the Earth has, in fact, many climate regimes at present. Moreover, there have been profound changes in the temperature difference between the tropics and polar regions over millennia, but at the same time the temperature of the tropical regions has remained little changed. The popular narrative assumes that small changes in the tropics are amplified at high latitudes. There is no basis for this assumption. Rather, the difference is determined by dynamic heat fluxes in the atmosphere and oceans, with the controlling flux due to baroclinic instability in the atmosphere.
Changes in mean temperature are primarily due to changes in the tropic-to-pole difference, and not to changes in the greenhouse effect. The stability of tropical temperatures in the face of strongly varying heat fluxes out from those latitudes points to the existence of strong negative feedbacks in the radiative-convective response of the tropics. Finally, we will comment on the so-called impacts of climate change.
The entire study is linked here
Safe to say CO2 is not the driver of climate change that the quasi-religious style of climate science claims it is.
Therefore this must be the sort of alt news that the globalists like Ardern want to rid us of.
Well Played Shitbox, well played!
Idiocracy is here
Between the biggest news headlines of the moment and the people commentating on these events, it is just getting more and more pathetic.
The New Zealand political and MSM reporting on Russia is on board with the usual NATO authorised commentary.
Our P.M. did her best to continue the propaganda on the Ukraine war and throw in every other nonsensical claim from climate crises to the need to stamp out misinformation.
There are zero journalists operating from the front line of the Ukraine side of the war, this is a one of Zelensky's heavily guarded secrets of the war. News is derived from the Ukraine officials, largely designed to creat morale and reasons to be supplied more money and munitions. Journalists who have ventured outside the controlled narrative have been imprisoned. The opposition voices banned and news from Ukraine is taken as gospel from the perpetrators of the war.
You have to wonder why there is is no footage from the war if Ukraine is doing so well, there is more footage of World War I than there is of Ukraines domination of the battlefield.
The NZ herald decided to share a news article from an Australian journalist who is the supposed guru on geopolitical issues, war and science. The article opens with this line, "only victory can save Putin now."
The article claims that Russia has been failing and is doubling down.
Many commentators look at the minor wins that are broadcast from the Ukraine propaganda machine and bundle this news into a news clip that presents a holistic view that Russia is failing.
The headline to this NZ herald shares clip is "Map Shows that Desperate Putin is Losing Control, Has Nowhere to Turn"
The map and the referendum looks more like the Map is going to show Ukraine shrinking in size. We will need to see the result but Zelensky is during a warning that any "Ukrainians" caught voting will be imprisoned. Putin has warned that any interference with the election will result in a furious array of air strikes on infrastructure and control centres. If that is a losing position I need to read up on military strategy.
Meanwhile Ardern is claiming that New Zealand's stance on Nuclear weapons has an important role to play in nuclear proliferation. That makes as much sense as saying the guy who turned up to a gunfight with a knife has a roll to play in the fight. His part is taking orders or absorbing bullets as fast as the gun weirding participants can fire them.
I don't have a gun so put yours down. Arden threatened Russia with a plea to ban all nuclear Weapons. She must have been practising her most concerned concerned face with more power even than "blue Steal" and just like that the war was over. Just like the gun buy-back stopped gun violence in New Zealand.
Ardern proved just how little she knows or just how much she is told what to say. Her comments on the Ukraine was garbage recycled from propaganda fed from the collective that are proliferating the war.
Calling the action in Ukraine illegal. I'd say killing ethic Russians by the thousand over the past 8 years is illegal too so shall we call that a push?
Ardern's speech shows us just how screwed we are, when everything she said was pushing the globalist agenda, driven by her desires in expanding the UN control of our lives and restricting what we as people can do.
Expanding the WHO powers with a global pact, fighting the climate emergency and of course disinformation.
"We must address misinformation and disiformation on line." This is an admission of the fear of the alt news.
Ideological claptrap, lies and schooling others on how they should behave.
How can we fight climate change if people don't believe it exists. Those people are called scientists Jacinda dear. Scientists do not believe there is a climate crisis, yes there are those that do and then we discuss the issue with evidence. We don't call those with opposing voices spreaders of misinformation you stupid cow.
Ardern must go and all those that are part of the globalist driven ideological thoughts. Science has been kidnapped in the name of globalism and this is the most dangerous risk to life as we know it, not our desire for cheap energy.
So we will continue to see the total denial of what is really going on in Russia, the continued myth of a climate crisis, refusal to acknowledge that mandating vaccines, suppression of effective treatments and lockdowns were deadlier than if we had done nothing. And they wonder why people don't trust their governments and media.
Martha's Vineyard Residents Lives Matter
Things that just can't be explained if it really was safe and effective
It's just getting to the point in that movie The Truman show where you realise you are living a big lie. But still no one wants to get in that little boat and sail to the edge of the studio to end the show.
Analysis of the vaccine shows that it has been the deadliest vaccine ever and nothing points to the intervention having a net benefit. Yet no one wants to admit it.
The below reporting takes some of the data points to show the fraud, the willful ignorance and the total lack of desire to stop this damage.
Another must read if you care about stopping the pure evil that is our current global leadership.
https://stevekirsch.substack.com/p/the-evidence
From fraudulent trails, complicit watch dogs and politicians. Profit over substance and a fear and deception game played by the media and other actors. We have been duped.
Time to admit it so that it doesn't happen again.
You can rely on Jordan Peterson to tell it how it is.
Featured comment
One response to "You can rely on Jordan Peterson to tell it how it is."
Join the conversation
New York New York
The Game
Coming To An EFTPOS Machine Near You
Snouts In The Trough
Oh this is NOT going to turn out good for the Labour party no matter how the cards fall! Those close to the action are already admitting fault before the official inquiry has even started. Multiple contracts being awarded to Mahuta's husband/cousin without a tender process, costly meetings with virtually no paperwork, for starters. He is either an expert at all sorts of different things or an expert at getting lucrative government contracts! I don't think this is going to go down too well no matter how Mahuta et al spin it!
And what makes it worse is they have bloated the staff by over 14,000 yet STILL need to hire outside consultants??? Add this to the extraordinarily long list of failures & poor leadership for the Ardern government. It's time to resign Jacinda Ardern!
No doubt Cindy will say……
Fair Call
Here's some some balance to the local reporting on the Russia Ukraine crisis and other news
Half an hour intro which can be fast forwarded or enjoy the lead in with music and historical info
Smart Watch
WINZ have created a new smart watch that tracks the amount of steps you've been taking to find a job.
They calling it the BeneFitBit
Dead Duck?
A woman brought a very limp duck into a veterinary surgeon. As she laid her pet on the table, the vet pulled out his stethoscope and listened to the bird's chest.
After a moment or two, the vet shook his head and sadly said, I'm sorry, your duck, Cuddles, has passed away.
The distressed woman wailed, Are you sure? Yes, I am sure. Your duck is dead," replied the vet..
How can you be so sure? she protested. "I mean you haven't done any testing on him or anything. He might just be in a coma or something."
The vet rolled his eyes, turned around and left the room. He returned a few minutes later with a black Labrador Retriever. As the duck's owner looked on in amazement, the dog stood on his hind legs, put his front paws on the examination table and sniffed the duck from top to bottom. He then looked up at the vet with sad eyes and shook his head.
The vet patted the dog on the head and took it out of the room. A few minutes later he returned with a cat. The cat jumped on the table and also delicately sniffed the bird from head to foot. The cat sat back on its haunches, shook its head, meowed softly and strolled out of the room.
The vet looked at the woman and said, I'm sorry, but as I said, this is most definitely, 100% certifiably, a dead duck.
The vet turned to his computer terminal, hit a few keys and produced a bill, which he handed to the woman…
The duck's owner, still in shock, took the bill. "$150!" she cried, "$150 just to tell me my duck is dead!"
The vet shrugged, I'm sorry. If you had just taken my word for it, the bill would have been $20, but with the Lab Report and the Cat Scan, it's now $150.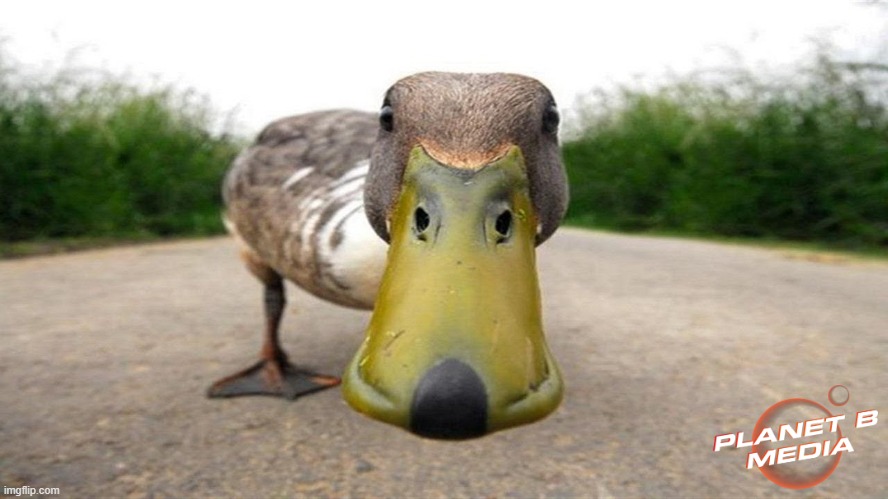 More Evidence of the Vaccine Danger for the young and Healthy
https://thevigilantfox.substack.com/p/this-is-a-mic-drop-healthy-successful
"There were 61,000 excess millennial deaths. Basically, millennials experienced a Vietnam War in the second half of 2021 … This is what we call democide, death by government."
The article linked above is data from actuaries. It compares the risk assessment of young working age people from the age of 25 to 44 who from a risk point of view, are the least likely demographic to die.
This statistic continues into the Pandemic as this age group was the least effected by COVID-19. We know that it was the elderly and ill that were most at risk.
But post the intervention of the mRNA vaccines this age group is now experiencing the highest excess mortality.
Each time I hear an add for the vaccine which we now know has a negative benefit for most of the population, I am reminded of the sick bastards who run the western populations.
Share with the muppets who still want to claim the Pfizer jab was a safe and effective vaccine. It was none of those things.
Every time a jabbed and boosted person gets .COVID-19, surely they must feel a little miffed. Knowing a nurse that was forced to take all the jabs and has had COVID-19 as many times as she has been jabbed, I know she is a tad miffed.
What did Ardern and Trudeau discuss on their private Jet flight? How anti science everyone is?
While they finally admit the young and healthy plumber Rory was killed by the vaccine, when will they address New Zealand's soaring excess mortality?
Here it is again in case you missed it
Featured comment
3 responses to "More Evidence of the Vaccine Danger for the young and Healthy"
Join the conversation
Thanks for clearing that up Brian!
Ardern's commitment to climate change
I Fucking Knew It!
Not quite yet Joe!
Hypocrisy
Flying to save the environment is like fucking to save your virginity! Well done Rod! You & Ardern are bloody winners! And she just jumped on a private jet with Trudeau to hitch a ride from London to New York! Not to mention dirty coal being imported into NZ in record numbers is apparently better for the environment! You honestly cannot make this shit up!
Small coffin sales on the up
Demand for caskets remained static in 2020 and 2021 until the post vaccination period and now it's booming including small caskets
https://www.sott.net/article/470111-Casket-manufacturer-reports-unprecedented-orders-of-child-size-coffins?ysclid=l8asr3voa7452452076
The response is to normalise myocarditis in children.
Irregular heartbeats behind excess mortality
More things that will miss the MSM.
https://www.sott.net/article/470580-Data-doesnt-lie-mRNA-vaccines-and-correlation-to-all-cause-mortality?ysclid=l8am0wp5fr721338339
Things heating up in Ukraine
The Donbas region is holding referendums on whether it joins the Russian Union. It is being called a sham election by the NATO countries however logic would suggest that the region that has been begging Russia for help with the war against anti Ethnic Russian Ukraine forces and has been asking for years for a referendum for independence, isn't a sham. but we know the MSM on this war are as accurate as a blind man using a urinal on a bumpy flight.
This changes the battlefield significantly should the vote, to be held next week, has the Donbas become part of Russia.
What seems to be missed by the media is that the battles to date are predominantly run by the Donbas Rebel Army.
Joining the Russian Federation takes the Special Military Operation to an Anti Terrorist campaign. Essentially the gloves are off.
It will have the propaganda spin doctors working overtime to claim the referendum has some nefarious origins.
The battle changes from Ukraine versus the Donbas militia supported by Russia to Ukraine versus Russia.
Meanwhile Ukraine is agreeing to pay for the cost of all the support from NATO countries with selling Farmland to USA owners. Ukraine has extremely fertile farmland and has been unable to sell to foreign interests until very recently. 
Its almost like the West want to use Ukrainians as cannon fodder against the Russians and take over the fertile farm land….
This may speed things up in terms of ending this phase of the battle for the Donbas.
The NATO countries will no doubt not look at de-escalation and so this will become more obvious that it is a proxy war leading to Russia versus the West.
No doubt the masses who are buying the MSM propaganda will be cheering on as more Ukrainians meet certain death.
Replenishment of ammunition etc will start to become an issue. particularly for the NATO side which doesn't have the sustainability of supply for ground skirmishes like these. This in itself could lead to an escalation in weaponry.
All in all it doesn't look like this war is going away in a hurry but winter does strange things to morale.
Putin's speech tomorrow will be interesting.
#Trudeau-Must-Go goes viral
Justin Trudeau, Macron, Arden etc etc. Their grip on power is rapidly on the decline and not a moment too early.
Watch the opening few minutes of this Viva Frei blog video and see just how much of a psychopath Trudeau is. Also the little children that have been conditioned to hate those that don't comply with government mandates.
What a sick society these modern liberal leaders will create if allowed to continue. At least our election is next year. Canada have another 4 years of this twat.